Published: Wednesday, July 24, 2019 12:48 PM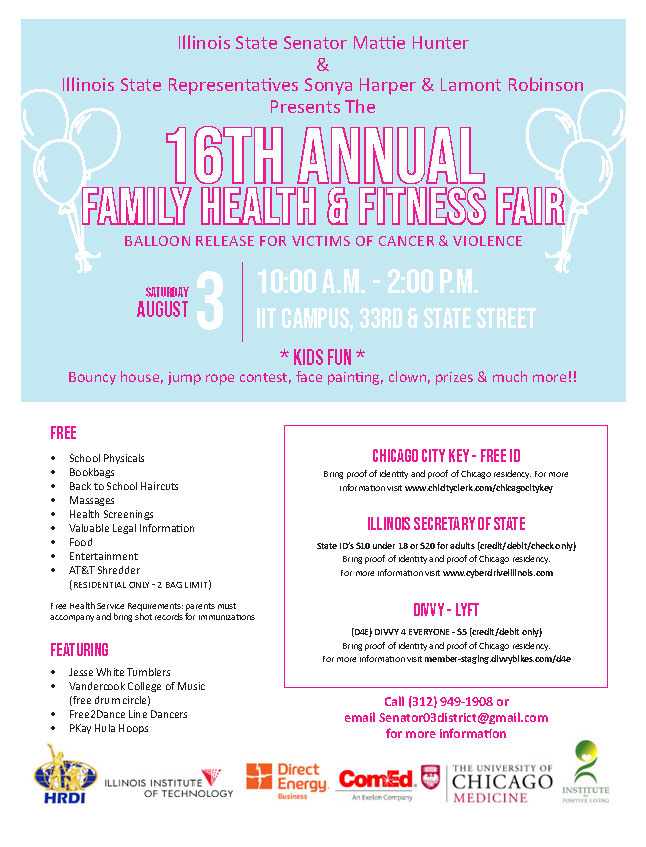 CHICAGO – Free eyeglasses, health screenings, giveaways, live entertainment, and family activities will be available at the 16th Annual Family Health & Fitness Fair, which will be held in Illinois's 3rd Senate District in Chicago's Bronzeville neighborhood on the South Side.
Get back-to-school ready with free immunizations, school supplies, and haircuts. More than 50 vendors will participate, which is the most in the event's history. (Vendor list attached.)
WHEN: 10 a.m.– 2 p.m. Saturday, August 3, 2019
WHERE: Illinois Institute of Technology on the field north of S. R. Crown Hall at 33rd & State Street
Other highlights include:
Free Chicago CityKey cards will be issued by the City Clerk of Chicago. CityKey is a valid government ID card issued to Chicago residents (10 a.m.–noon).
Illinois Secretary of State will issue state IDs.
Divvy-Lyft will introduce their D4E, or Divvy for Everyone, a Chicago program that offers a $5 annual membership for those in financial need.
Health services, including eye examinations, massages, and health screenings for blood pressure, cholesterol, glucose, osteoporosis, and diabetes.
The St. Bernard Hospital Pediatric Mobile Health Unit and Illinois Department of Public Health's W.O.W. Mobile will provide health examinations and immunizations.
AT&T will provide free residential document shredding.
The event will be hosted by Sen. Mattie Hunter (D-Chicago – 3rd District), Rep. Sonya Harper (D-Chicago – 6th District), Rep. Lamont Robinson (D-Chicago – 5th District), Illinois Institute of Technology, the Institute for Positive Living, and the Human Resource Development Institute.
"I hope that attendees will be inspired to live a healthier life this school year and beyond," Hunter said. "I would like to personally invite everyone—especially parents, children, and senior citizens—to come on Saturday, August 3rd, and receive free health services, giveaways, and enjoy the finest entertainment and activities for families and children."
"Illinois Tech is thrilled to once again host this event," said Jeanne Arens, Illinois Tech's associate vice president of external affairs. "We look forward to having the community visit our campus and also take advantage of all the important health and wellness opportunities."
Guests will be entertained at the Main Entertainment Stage with performances by the World Champion Jesse White Tumblers, PKay Hula Hoops, Fre2Dance Line Dancers, and VanderCook College of Music (free drum circle).
ComEd and Water Reclamation District Commissioner Kimberly Dubuclet are presenting co-sponsors of the event.
Category: Uncategorised