Published: Friday, November 02, 2018 11:14 AM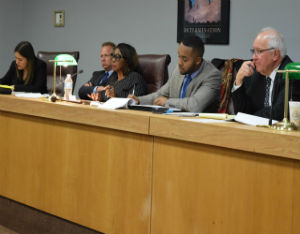 EAST ST. LOUIS – In her last stop on a statewide tour Thursday in East St. Louis, State Senator Mattie Hunter (D-Chicago) convened the Senate Special Committee on Housing to look for ways to address the lack of affordable housing and rising rent prices.
"During our tour we've learned that access to and availability of affordable housing is a challenge in cities like East St. Louis, Urbana and Rockford and in neighborhoods throughout Chicago," Hunter said. "But with rising housing and rental prices, it is crucial that work be done to meet the need for more affordable housing now."
Currently, Illinois is one of 35 states across the country with a rent control ban. Hunter discussed legislation she is sponsoring which would lift the 1997 ban on state and city governments enacting any measure that would regulate or control rent prices on private property.
Hunter's measure would also establish six elected rent control boards, spread around the state, each composed of landlords, tenants and tenant advocates. The seven members of each board would implement and monitor local rent regulation. The bill also pegs annual rent increases to inflation and allows the regional rent control boards to establish the median rent for their areas.
"My proposed legislation is only one of the options that we're pursuing," Hunter said. "The purpose of these hearings was to listen to as many stakeholders as possible and gather as much information as we can. Our next step is to take all of these suggestions to Springfield and begin to craft a legislative solution that creates strong communities and expands access to safe, decent and affordable housing."
Housing experts, landlords and renters from East St. Louis and the surrounding area provided testimony on the lifting the state rent control ban.
Housing Authority experts from St. Clair and Randolph Counties provided testimony on the challenges facing those seeking new affordable housing in their communities, including increasing crime rates and poverty levels, aging housing stocks and lack of federal support.
On the other side, rent control opponents, including real estate agents and landlords, argued that rent control would have a negative effect on the free market, reduce the supply of rental units and restrict the construction of new housing units.

"I appreciate everyone who met with us all around the state to discuss this issue," Hunter said. "The most basic thing that all of us need is a decent place to live. That's the foundation on which everything is built. So I feel passionately about the work of this Committee and the importance of its result."
Category: News